March 8 2016
Bingo and friends donated money snd gifts to the beneficiaries of all safe house in Bosnia nad Herzegovina
Bingo Ltd. Tuzla, in co-operation with its partners, donated 9,000 KM for Safe Houses on March 8, 2016, and the beneficiaries of all eight houses received gifts.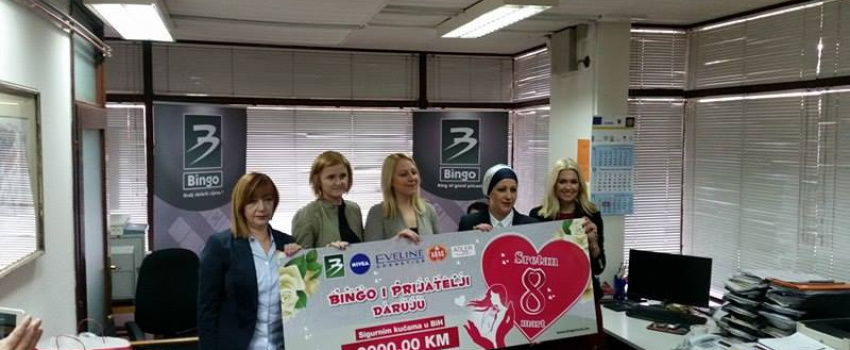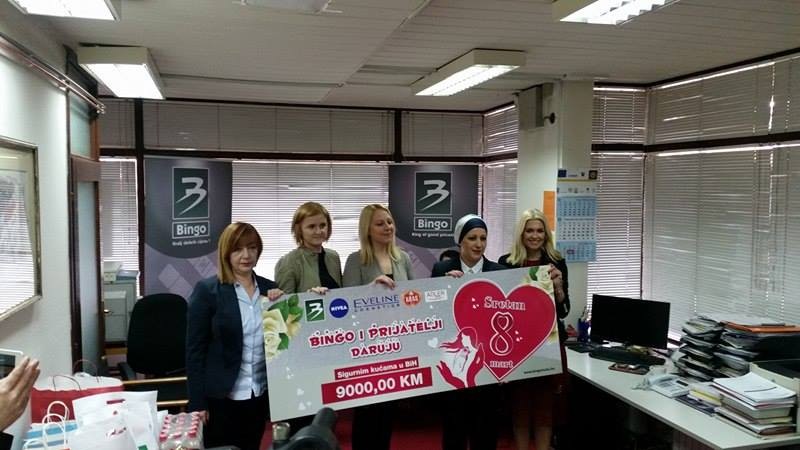 The check was delivered by the representative of Bingo Amna Džambić and the representative of Kraš Maja Zeković, and on behalf of all safe houses the donation was received by Mubera Hodžić-Lemeš, the Safe House Manager in Sarajevo and Jasmina Mujezinović, Executive Director of the Foundation of Local Democracy.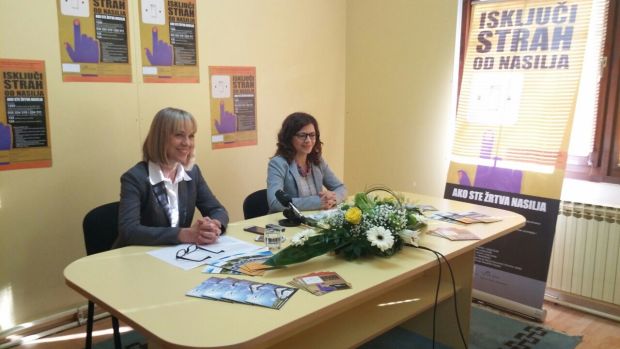 On the occasion of marking the 8th of March, an international holiday dedicated to women, with the aim of supporting the residents of Safe Houses in Bosnia and Herzegovina, Bingo and friends organized a campaign titled "Show That We Care". The goal of the campaign is to point to the importance of women in society. The International Women's Day is only one day of the year when the public is talking about the position of women in the past and the present. There are still problems that have not been overcome and women are still in a subordinate or vulnerable position. More…
"With the campaign "Show That We Care" together with our partners, we decided to reach out to all the Safe Houses in BiH that provide individual support to victims of domestic violence. Our goal is to raise awareness of Safe Houses and the role of women in modern society, and to encourage and delight the beneficiaries on this day. Our customers have felt the need to work together with us and our partners to participate in this campaign, with which we celebrate women, "said Amna Džambić, from the marketing service of Bingo.
"On behalf of the beneficiaries of the Safe House, victims of domestic violence, I express gratitude to Bingo and partners for this humane gesture, for making this a beautiful day. Bingo has once again proven corporate social responsibility and the act of their donations to the Safe Houses will draw the attention of society to the very significant problem of domestic violence in our country. Violence against women is not only a women's issue. Through joint actions and the work of all of us, we can influence the raising of the level of citizen's awareness through advocating zero tolerance to this violence of BECAUSE WE CARE," said Mubera Hodžić-Lemeš, Manager of Safe House in Sarajevo.
The beneficiaries of the Safe House in Sarajevo expressed their appreciation for the gifts saying: "Thank you for thinking about us, in this way we know that we are not alone, you have made our day and put a smile back on our faces ... Thank you!"